Locosys GW-60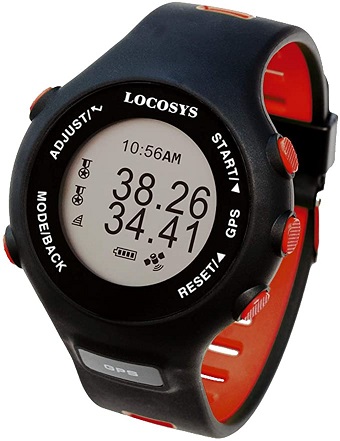 The GW-60 was released in early 2017. Details GW-60 can still be found on the Locosys website.
In many ways it is comparable to the GW-52 but it has the added convenience of being a wrist watch. It also has slightly better functionality for reviewing speed results during and after the session.
Convenient as it was to have a wrist watch, the GW-60 was prone to water ingress and operating it via the buttons during a session ultimately lead to its demise!
Observations
SDOP on the GW-60 is typically higher than on the GW-52, possibly due to the smaller antenna and poorer shielding.
Beware the effect of underhand grip as it increases error levels; higher SDOP.

Detail about this can be found in a test session on 27 Mar 2022.
Tips
Although an option exists in the GW60Util, do not convert the SBP files to GPX format.

The SBP format contains all of the important GPS error information!

You would be well advised not to press any buttons during a session.

Water ingress will eventually destroy the GW-60!
Specifications
| Item | Details |
| --- | --- |
| Logging | 1 Hz or 5 Hz |
| Memory | ~35h @ 1 Hz or ~7h @ 5 Hz |
| Battery | ~5 hours @ 5 Hz |
| Charging | Custom USB cable |
| Download | Custom USB cable + GW60Util |
| Best Format | SiRF binary, packed (SBP) |
| Other Formats | n/a |
| GPS chipset | probably the SiRFstar IV |
| Additional Logging | Sats, HDOP, SDOS |
| Approved for GP3S | Yes |
| Approved for GPSTC | Yes |